Friday, 15 April, 2005
Tax day, and such a beautiful day here! We walked ydy on the IU campus and today on the Clear Creek Trail.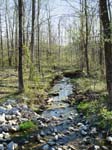 Busy busy with email today. Received a very nice one from a teacher in Chicago who is using my tutorials for his students and they are loving them.
---
Thursday, 14 April, 2005
Updated my Pets photo page today with some pics I shot today of the 3 cats and Maddy. I continue a devil of a time trying to get Hogan

to look like himself in a photo.
Today I got down on my knees and scrubbed the floor in the back entry and closet. It occurred to me "Why get a floor that 'cleans easily' if i don't ever clean it?" LOL!
---
Wednesday, 13 April, 2005
I have signed up for an account with Diaryland, where I will be able to post my Journals, if I ever can get the thing to work. It's from the same folks who do my Guestbook, so i am expecting it to be good.
Last evening we went to a lecture on the Future of Medicine with Bob & Ann.
I've written more about this in my new Diaryland Journal! :)
---
Tuesday, 12 April, 2005
It occurs to me that this is a good way to keep track of what day it is.
I just sent this to a friend:
I was just reading an email and thought of you. I probably haven't mentioned it to you, but on the first of January, I got myself a new resolution – to keep my house in better order. Well.. that's nebulous, I know. Goals are supposed to be measurable and specific and stuff, but … well all I could say was that I wanted to do better with my house. I announced it in myJanee.community and so it became law. ;)

One of my friends read this and suggested that I have a look at FlyLady.net. So I did.

Well… this little organization is made of folks just like US, except that they have gotten it together. They have little routines and stuff and it's just fun. I don't do everything that they do, but I am taking "baby steps" as they call it, and it's made a world of difference in the way I feel and in the way our house looks.. and even in the way that Michael and I get along.

For example, one thing that she has us to do is to form a new habit every month. My new habit for April is to write in my web journal daily (except Saturday). And I'm doing it! :) (That's this journal!)

I thought of you when part of today's email read

Dear Friends:

We are in Zone 3 this week and that is the main bathroom and another room in the house. For this week you are to choose a room that is at its complete worst! For me it will be my personal dungeon. I am re- claiming my basement this week 15 minutes at a time.

And it continued, telling us just what she's gonna do. That's when I thought of you – the "dungeon" idea and your spare room! LOL! Anyway, I just really wanted to tell you about FlyLady just to share this little bit of joy. FLY stands for Finally Loving Yourself.

They are completely spam-free – just folks like us. The "club" consists of them sending little reminder emails throughout the day. I get mine in "digest" form, so that I just get one huge email per day, but I love reading it.

Besides all the little reminders (go shine your sink!), it has testimonials from people who have found funny things.. and are learning and growing. It's just joyful. Many of the people have "real" jobs, many have kids, and many are like us! :)

A word of warning: If you do decide to join it, DO read the two welcome emails including the part where it says that you don't have to do everything. You will gradually get more of the habits into your life.

Anyway, ignore this if you are sure it's not for you. But I'd say to just go there and have a look at the page anyway and see what you think. www.flylady.net
So that's my sales spiel! In honor of FlyLady, I'll show my sink again. ;)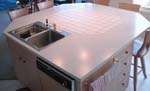 ---
Monday, 11 April, 2005
I need to start putting the day of the week in here.
For my housecleaning, part of what I do is to spend 20 minutes working on some particular project or region of the house. I have all my regions and projects on cards and each day I draw one.
Well, today I drew the "kitchen" card and chose a drawer to clean out. Well… that drawer I chose isn't one that I use a lot – dog treats mostly. I should treat the dog more. Well.. upon opening this drawer, I was greeted by.. bugs! Icky little bugs. I don't know what they were, but I don't like them. I was a fiend getting rid of them, and didn't even think to take a picture. <shudder>
They were into all the various kinds of dog treats, nestled into the crevices in the boxes.. it was really not a fun 20 minutes today!
I just posted the first of the Challenge entries for April and was happy that it all worked perfectly on the first try!
Tip for the Day: You love your banana hanger! It keeps the bananas up off the counter and reduces bruising. What's not to love?
Well... what happens when you are down to just one remaining banana? Is it to be relegated to the fruitbowl? No! When you're removing the next-to-last banana, cut it off with a knive, leaving a little "hook" for that last banana!
Sunday, 10 April, 2005
Yes, I did take the day off from journaling ydy, but that's what I'm going to do. "On the 7th day She rested," yanno?
I'm making up for it with a special posting for you today!
On Saturday, we went walking around our property, checking the fenceline, and found some serious damage done by wayward trees. And we found some damage that's ABOUT to happen. My brother in-law Steve just happens to be a tree man, so I'm hoping that he'll git 'er dun for us. If he does, I'll post a pic of him cutting the tree!
And no, the mushrooms were not yet up. Ours are always a little behind everyone else's.
We enjoyed a scrumptious breakfast of pancakes and bacon. Nothing beats real Vermont maple syrup!
Then we started off for Indianapolis... but decided on the way out the driveway that we'd go to Washington instead! I took a bunch of pics during our walk around the park! Clicking this one will take you to the series: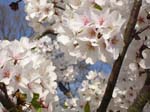 Then today, Sunday, we walked with Maddy on the Cook Trail. It was really almost uncomfortably warm, even first thing in the morning.
Then we showered and headed north to Indy. We had a delicious lunch of bbq ribs at Dick's Bodacious BBQ followed by dessert at Handel's Ice Cream! Nothing finer! (These places are practically next door to each other at Exit 5 off I-69, Fishers -- north of Indy.)
We did a bit of shopping for computer stuff and peripherals. We had a chuckle over this: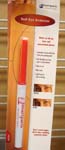 Then we headed back home to delicious leftovers of my Janee's Special Chicken Pie. That turned out so good I'm going to actually write out how I did it so i'll remember.
This is a recipe that you make over two days. The first day, you have chicken soup. Then the next day, you take what's left of that and recycle it. This is enough to feed 2 for the first meal and then there are 4 servings for the 2nd meal.
Day One
Dump all into slow cooker :
Whole chicken cut up
4 Carrots, sliced
2 stalks Celery, sliced
1/2 Onion, chopped
2 cloves Garlic, chopped
1T dried Parsley
1/2 t each of Sage, Marjoram, Basil, Salt, & Pepper (and whatever other spices you feel inclined to toss in.)
6C water
and cook on Low for 8-10 hours.
I served this, bones and all, in big soup bowls with a salad and crackers. Of course, if you want to be more civilized, or if you are feeding children, you can remove the bones first. Noodles? Why not? Take the chicken out, add 2 more C of water, and then 4oz of noodles.
When you're done eating, and BEFORE you sit down with your favorite pulp fiction, take the remaining chicken off the bones and get rid of the bones.
Strain the broth. Put 1 C of the broth into a Ziplock bag for tomorrow's recipe. Freeze the rest.
Combine what's left of the veggies and the chicken and refrigerate.
Day two:
Janee's Special Chicken Pie
Mashed potatoes (we use 1/2 of a container of Bob Evans mashed potates, found either with dairy or meat. These are refrigerated. If you can't find them... ASK for them. These are great!)
Prepare these according to directions, but put them into a glass pie plate to heat in the microwave. Cover loosely with plastic.
After stirring them their final time, spread over the bottom and sides of the pie plate.
Pour 1T Oil (we used garlic oil) over the potatoes trying to get it spread evenly.
Bake this at 400 till it starts to get just a wee bit brown on the edges.
Meanwhile, make a roux:
4T Butter, melt in med skillet.
1/4 C Flour - add this to the butter.
Cook in the skillet till it's bubbly.
Stir in that 1C of chicken stock you saved. It will be wonderfully gelatinous, proving that this is rich in protein!
Stir it and cook till it's gravy!
Gently stir in that tender chicken and the veggies from yesterday.
Pile all of this into that mashed potato shell in the pie plate.
Cover with Durkee Fried Onions and bake this for 10 mins or so.
Take out of oven and cover with thinly sliced Cheddar Cheese and more Durkee Onions.
Throw back into the oven till the top is melted and lightly browned. Slice and moan with pleasure!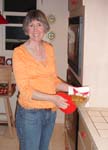 ---
8 April, 2005
This morning, I neatened things up a little, doing my morning after-breakfast routine, and was so impressed with myself that I shot pics of my kitchen!
I know.. what's the big deal about having a fairly neat and clean kitchen? Well, it IS a big deal for me, because I'd gotten into some pretty slobby ways before I made my new 2005 resolution to be better about my housekeeping.
I owe it all to FlyLady, I have to admit. I mean.. i don't follow all the "rules," but I have come such a long way from reading her ideas and the testimonials from the other "flybabies," that it's made a real difference in my whole outlook.
I announced a new Art Challenge today. We're going to be doing photo fakery!
Today we walked on campus! It's a beautiful day and spring is HERE!
---
7 April, 2005
Yesterday looked like rain, but we did the Clear Creek Trail and it was great. No distracting sun, and no rain! Today is cooler.
I'm working on my new Photorealism class which looks like it's going to be offered in August. I could have had it by May, but... don't want to put that pressure on myself. And I'm getting set to write an Intro to Photoshop class, too, and I want to have that ready by May.
I may have mentioned our wild turkey flock! We've counted over 100 out behind our house all in one flock. This is part of that flock, taken 12 Feb.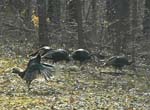 We have not seen them for a month, but they usually come around some in the summer.
A couple of weeks ago, someone had posted in my Guestbook: "You are ugly... very very ugly." No name or anything. It may have just been an anonymous spambot.
But I've been thinking: What a goofy thing to say to someone! If the person thought that I am truly ugly, what sort of person would TELL me that? LOL! And another thing I've been thinking: Why on earth do I THINK about morons who say stupid stuff like that?
---
6 April, 2005
We walked again on the Clear Creek Trail ydy. It was almost hot!
Here are some pics that I took on our walk on Sunday. This is on the IU campus. I just love this time of year, with things just starting to bloom and get green. ALMOST makes the winter yuck worth it. Notice I said "almost!"
I worked a little in the yard today; that's how nice it was! I cut down a little tree that had been bothering me and dragged some limbs out of the yard and off into the woods. I scared some deer!
Today I'm doing more work on my Photorealistic Painting with Photoshop class. I'm doing lots of research and enjoying this so much! I just love writing, and it helps a lot to know some of the wonderful people who will be reading it.
---
5 April, 2005
Our walk ydy was on the Clear Creek Trail. Lovely day, sunny and close to 70! Same kind of day today.

I'm working on writing materials for a new class in Photorealistic Painting in Photoshop. I've just begun on this, but I have some great ideas. I am hoping to have this ready by the May 14 session at LVS. I have not gotten this okayed by them yet. In case I do, here's the header graphic I made for it!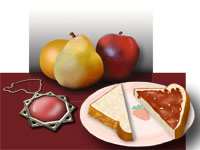 Did I tell you I set up a Donate button for PayPal on my Contact page?

Jon told me about the program Convert, free and downloadable and customizable. I like it!
---
Monday, 4 April, 2005
Turning over another new leaf. I'm going to try to post in here daily, along with at least one fairly current photo.

Here's Eddie on top of our bookcase.
If you haven't seen our recent trip journal, go have a look at our pics from San Francisco!
---
14 March, 2005
I just posted a new tutorial on making Post-It Notes. Hey, you may be surprised how many people have written to me, wanting to know this!
I've also posted the conclusion to Michael's Journal of his lung surgery adventure.
We're getting set to go to San Francisco! See the journal of this trip HERE!
11 February 2005
Well... what a difference a few days makes. I didn't mention it, but I have been going through a bit of a health crisis with Michael. You can read all about this on Michael's Journal page.
8 February 2005
I made a pot roast for SuperBowl Sunday and it was GREAT! We had Carla and Roy over to watch the game. I even made a cherry pie and real whipped cream. Mmmm!
We have been in the throes of trying to get everything together for our trip. We leave for Australia on the 28th of February.... which is pretty soon! Try as we have, we are not even close to ready. I'm trying to get us new luggage, and there is so much to choose from that it's dizzying.
Plus i have yet to get a new camera. I want a SMALL one, so i can pack it into my purse and have it with me always.

I've been lousy at keeping up my Journal, yes. I HAVE, however, kept my email inbox to under 10 items ever since the first, though! Wooohoo!
Today is my coronation, which should mark the end of this round of dental stuff. I'm having two crowns installed right next to each other. I hope it is as easy as i remember from before. I sort of think that after this gum surgery, ANYthing will be easy.
We have a new Challenge going right now -- Portraits!
LVS classes are going wonderfully well. I have a very industrious group of students! Making the sort of feedback postings to honor their work takes a lot of time, but this is a very personally rewarding part of my day.
Client work continues apace. I have several contracts upon which i'm working right now.
Our backyard is full of deer right now.

6 January 2005
Well, it got to be 2005, just as I started to get used to writing "2003." The year's started off very well! First of all, a little catchup:
I'm no longer writing any monthly magazine columns. It was great work, I miss doing it, and will likely get back into it at some point. I am still doing now-and-then articles, like the one i'll be submitting this week to Photoshop Fix.
So why'd I quit doing the columns if i liked it so much? DPT changed their format and I didn't like writing within its constraints. Photoshop User seemed to think that it was necessary for me to not be writing for them. I never did figure out just why, as I never received anything but great comments on the column that I started. Oh well, I am punishing them by not going to PSW this spring in Las Vegas.

I'm teaching at LVS Online still, and really enjoying that.
I've added several new tutorials, just within the past month! If you haven't already been there to check 'em out, do it now! I am eager for feedback on any of these!
Bulletin Board:
Interface with Rollovers: