Road Food

Friday, June 16 Leftover steak & ribs from Texas Roadhouse
Saturday, 6/17 Mostaccioli with chicken-onion white sauce with tomatoes. Mmmmm!
Sunday, 6/18 Thai food with Scott at Tara Thai in Arlington VA, very near his house. Yummy wonderful stuff! Satay, spring rolls, cashew chicken, Panang curry, and a pork-noodle dish, all served with steamed rice and Thai beer.
Monday, 6/19 Foccia Luna with Scott. Pizza with sausage, pepperoni, sun-dried tomatoes, onions, and artichoke hearts. YUMMMM! Earilier in the day, had lunch at the old post office. Cookies were especially good. I forget the name of the place.. Sam's or Dave's or something. Will have to return to get the name of the place.. yeah.. really.. that's why.
Tuesday, 6/20 More Larry's cookies.. MMMmmm. Tonight had Manwiches.
Wednesday, 6/21 Making a habit of those Larry's cookies. Steaks and WONderful zucchini cooked on the grill in a foil pouch with just the smallest smidge of olive oil.
Thursday, 6/22 More Larry's Cookies. Good thing that we are doing a lot of walking! Great salads for lunch. Supper was vintage Manwich with good salads from the grocery and raspberry pie!
Friday, 6/23 Ham slice on the grill with corn on the cob
Saturday, 6/24 Chicken and rice casserole
---
Sunday, 6/25 leftover ham
Monday, 6/26 light supper of salad, potato salad, and coldcuts at Grandma's
Tuesday, 6/27 Grandma made swordfish with baked potatoes, broccoli rabe and cheesecake with strawberries. Mmmmm! She is a wonderful cook!
Wednesday, 6/28 YUMMY leftover swordfish from Grandma's. Even better the 2nd day!
Thursday, 6/29 Barbequed chicken breasts with zucchini all done on the grill by my fabulous chef-husband Michael.
Friday, 6/30 Spanish Chicken Paella

Saturday, 7/1 Canada Day! Hamburgers and green beans on the grill mmmmmm!
---
Sunday, 7/2 Hamburger rerun, salads, bread
Monday, 7/3 Tuna noodle casserole
Tuesday, 7/4 T-bone steak on the grill, asparagus, green salad. Michael gets the NY strip; I get the filet.
Wednesday, 7/5 Rerun of tuna casserole
Thursday, 7/6 Fresh Rocky Mountain oysters frits followed by pheasant under glass garnished with tiny peas and medallions of baby carrots. The wine was a 1976 Puillet Fume blanc which provided just the right note of sweetness to compliment the flavours. We were so glad that we found this year; 1976 was especially good for that cold-snap tart to temper the sweetness. Dessert was Baked Alaska.
Friday, 7/7 Breakfast of french toast made with our yummy raisin nut bread that we had gotten in Fredericton. Dinner at La Cuisine du Marche. Michael had whitefish with rice and veggies and I had Veal Scallopine with linguine. Dessert was delicious strawberry shortcake and it was included with the meal.
Saturday, 7/8 Ravioli with pesto sauce and wine.
---
Sunday, 7/9 More ravioli with pesto sauce. No wine because Michael drank it all last night.
Monday, 7/10 Pork cutlets with new white potatoes on the grill.
Tuesday, 7/11 Dinner was bacon, raisin toast, and Michael's eggs done in the electric skillet outside! Michael's eggs: Saute chopped onion till tender. Stir up eggs with a splash of milk and some chopped up cheddar cheese. Stir the eggs into the onions and cook till eggs are done and cheese is melted. Tomatoes go well in these eggs too, as do green peppers, ham chunks, or just about anything else you might want to add.
Wednesday, 7/12 Michael did chicken pieces on the grill with Dinosaur BBQ sauce which we found at the IGA near Syracuse, and green beans that we had found at the same IGA. Since it is Wednesday, we had ice cream after.
Thursday, 7/13 Leftover chicken. Michael does it SOOOOO well. Green beans and salad. Since it is Wednesday, we had ice cream after. (What? it isn't Wednesday?)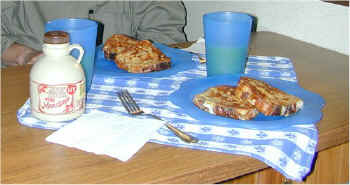 Friday, 7/14 Breakfast this morning was special. I made French toast from apple nut bread and we had it with real NY maple syrup. For lunch today, stopped at Cracker Barrel just north of Columbus near Sunbury and Michael had catfish while i had my favorite, pecan pancakes with blackberries in sauce. Supper for our last night on the road was pork roast that Michael did on the grill... Tender and flavorful.. salads and chips.
---