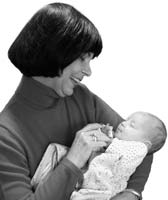 3. Paint away the rest of the background.
Take a paintbrush with black and paint over any remaining background on your canvas. This will paint on the Layer Mask, actually. (You know that you are painting on the Layer Mask, because you see the little circle-in-square icon next to the visibility eye.)
Zoom in if you need to, for better accuracy. You will be losing some of the border, so don't worry about very fine things like wispy hairs. Similarly, don't worry about hard edges. These will be softened in the end.
Once you have the background painted away, make a Merged Visibles layer above the other layers.
Tip: Making a Merged Visibles Layer: This takes a picture of everything you have showing, and places it on that new layer, merging your visibles, whilst leaving the layers intact below!
Make a new layer and drag it to the top of the stack.
Ctrl-Alt-Shift-E.