myJanee.com -> Gallery -> Photo Art
Janee's Gallery

Photo Art


before & after

These photos were all taken with my Nikon Coolpix 950 or my Coolpix 5000 and then enhanced or altered in Photoshop.
You can learn all of the techniques you see here in my Photoshop classes!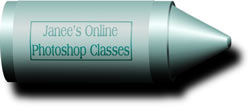 All material in this site is ©2001-2006 by myJanee.com Graphic Creations. No part of it may be used without my written permission. If you have questions or comments about this site or its construction, contact Janee at myJanee.com Graphic Creations, 7193 W Gifford Rd, Bloomington, Indiana, USA 47403 or by email.