myJanee.com -> Gallery -> Text Effects
Janee's Gallery Tour

This Gallery consists of different rooms representing many different types of Janee-art. This is a self-guided tour and I don't force you to listen to an exposé on the history of each piece.

Do you want to inquire about my doing work for you? Or do you find yourself wondering how I was inspired or how I created a piece? Please feel free to either email me at the address on the slip of paper below or ask in the Community.

---

Fine Art

(well.. ok... so-so art)


Drawings & Paintings

Glass

Greeting Cards

Sugar & Spice

Sketchbook

Eggs

Out There

---

Photos & Manipulations


Photo Gallery

Photo Art

Collages

Photo Retouching

---

Graphic Art


Geometrics

Spirals

Banners

Logos

Gradations I

Gradations 2

Gradations 3

Animations

Text Effects

Textures

Concrete Poetry
Miss my old Gallery interface?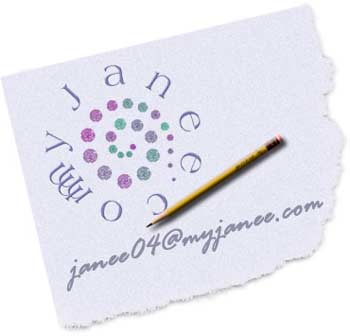 All material in this site is ©2001- 2004 by myJanee.com Graphic Creations. No part of it may be used without my written permission. If you have questions or comments about this site or its construction, contact Janee at myJanee.com Graphic Creations, 7193 W Gifford Rd, Bloomington, Indiana, USA 47403 or by email.