Merry Christmas 2003!

Today I uploaded more acceptances for the Challenge Trophy! What a fun Challenge it was! I hope that, if you're reading this and you have not yet participated in a Challenge, that you'll get onto my mailing list now for the next one!

I think that the only thing that has me bummed today, aside from world events which you don't have to hear about from me, is knowing that our non-smoking cruise ship Paradise is going to become a smoking ship.

This means that the cruise upon which we are to embark in January will be our last, till someone does another smoke-free one.

I have been working on the course descriptions for my LVS Online courses. I don't know what will be approved yet, but the stuff I'm preparing looks very exciting to me! It will be above "beginner-level," and takes off into the application of Photoshop into some different directions. I'll keep you posted!
Wednesday, Christmas Eve, 2003
I'm working on a tutorial on interfaces with rollovers. I'll post as soon as i have something worth posting.
This morning posted some acceptances for the Challenge Trophy for the Holiday Challenge.
I have just a wee bit more shopping to do. Think i'll sneak out this morning!

Nearly forgot to mention that i'm on the faculty now for LVS Online. I'll be teaching Photoshop (and maybe Elements) topics beginning in the March term! I will be writing my own course materials and the class will run with a Message Board and live chat. Should be fun!
Sunday, 21 December, 2003
Updated Tutorials: Art & Special Effects and Tutorials: Other Applications by adding Vecpix. Check it out. Cool site. Also added Tioem (T-O-M) with 6 cool tuts to the Art & Special Effects tuts.
Cold weather rules the day around here of late. Walking has been in the mall, which is something of a drag and pretty difficult at times with all the holiday shoppers! However, we are encouraged to see shopping bags -- and lots of them!
Tuesday, 9 December, 2003
Just finished a time-consuming and annoying process. I checked my referrer stats to find out who's been linking (and hotlinking) to me and my files. I really wish that if people were going to steal, that they wouldn't be quite so STUPID about it, at least. I mean.. just put the damned picture on your own server. Chances are good that this Janee chick would never find out. But if you hotlink me, not only will it not work (because i have my settings fixed through my host), but i get a neat and tidy listing of all the thieves and you're on it!
I'm slowly recovering (I hope) from this flu/bronchitis/sinus infection that i have come down with.

At least i slept a little last night, even though i had to sit bolt upright to keep from coughing.
We did our walk this am early, whilst it was still good and dark. It was 49° and it started to rain just a bit AFTER we got back to the car! Quite a pleasant walk for early morning darkness. We still have not missed a single day. Me since 7/21/01 and Michael since 1/01/02.
Work goes well. I just finished not only the November Challenge (Round and Round: Mandalas, Spirals, and Stars), but just ydy turned in my Q&A 9 for Digital Photography Techniques. I also got my next 4 deadlines for that along with high praise for my work. So what are YOUR Photoshop/Elements photo-editing questions? Send 'em my way!
We had a wonderful Thanksgiving in Louisville. Not only did we get to see all of the usual suspects, all of Angie's wonderful family, their kids and grandkids, but David & Kelly and Rachael all came, as well, and brought their 4 children. It was great to see everyone and hugs were plentiful.
We stayed at the Doubletree on Jefferson, more like a single-tree for us, though, because we didn't exactly have hot water every morning, but it served us ok. The place was largely deserted except for our family. We got adjoining rooms with Becky. It would have been even more fun to have adjoined, too, with the kids!
Friday, 21 November, 2003
Still no Objects palette!

$700 something for this upgrade. <sigh> I really DO wish that Adobe would supply a manual for its Creative Suite! Ok, i KNOW that i can find whatever i need, theoretically, in the help screens. But that doesn't help me when i want to just pop a booklet into my bag for when i have to wait in a Dr. office or something. PLEASE, Adobe! Come up with a manual for us!
The PT for my back ended up costing over $1000. Thank goodness insurance paid about half. It really has been worth every cent of it, though. I have much much less pain, when i have any at all, and I have a sense now that i have control of this pain. I'm still doing my exercises daily, and will likely keep that up indefinitely.
I've been keeping busy on paid work lately. Some of it has involved my trying to learn Illustrator in a quick hurry. I think that i'm going to have to slow down on that, though. Illustrator looks like Photoshop in disguise, but, from what i've gleaned, it is NOTHING like it in reality! Layers? They are there, but i can't see what they DO, if anything. Just one example. I'll be attacking it again today.
I'm doing pies for Thanksgiving. I plan cherry, pumpkin, and pineapple/coconut chess pie. The latter i'm adapting from a recipe i found on the 'net. I'll let you know how it turns out. If it's good, i'll print my recipe here. If it isn't, expect to hear no more about it!
---
Saturday, 8 Novemer, 2003
I don't have an Objects palette anymore for GoLive. Don't know where it is or how to find it, and there isn't a manual with this silly program anymore. <growl> So till then.. no more horizontal lines, unless i copy paste, which is my usual MO anyway.
I just now uploaded some new artwork! YAY! This time it is to my Drawings page. I have done much work that needs to go into my portfolio gallery, but... i just do what i can.
Things are going fine. Back much better, though i still have "off" days.
My bday trip was to ... Fort Wayne, Indiana! I know.. not glamourous, exactly, but we did get some courthouse photos! The ones we got on that trip are the last 12 on this page. Well.. i say "last 12," but they may not be the last 12 by now! <g> The ones we got on this trip are the ones between Whitley and Randolph.
Michael injured his ankle on our walk 2 days ago, but we are both still at it. He has black and blueness like you wouldn't believe, though!
Saturday, 11 October, 2003
I have learned a big thing today and that's how wonderful the Photoshop Web Gallery feature is! I've used it to compile the album for our visit with the kids in Miami Beach! Go have a look HERE!
I posted 5 new county pics yesterday! The new ones are Dearborne, Ohio, Switzerland, Ripley, and Jefferson. If you haven't been to see this feature of my site, i hope you will!
Still recovering from PS World, trying to get caught up on all my deadlines, freelance work, etc.. I'll have new family pics up, soon, too!
Monday, October 6, 2003
Just got back last night from a wonderful time in Miami Beach! The main reason for the trip was Photoshop World, which was, of course, awesome! I learned a bunch of good stuff, made some good contacts, and just had a good conference.
The Challenge has been fun! I took home a trophy for my "Basket Shop" in August's Yesterday Challenge. For September, i had fun with my entries for By Hand: Hands & Hand Tools.
What a difference a few weeks has made in my back/SI! I've been doing great with the PT. I'm going to Bloomington Hospital's Rebound where Mike is working on me. I'm given exercises which, though difficult, are really helping me! I'm very close to pain-free at this point. It will take time for me to get fully strong down there.
What had happened was that my pelvis was out of alignment, with the right side a whole inch lower than the left. Now i'm training my muscles to hold it right.
Wednesday, 10 September, 2003
My new email address system is working very well. I am not giving this addy to anyone who might spam me.. and spambots can't find it because it is not in text form on my site. So neener!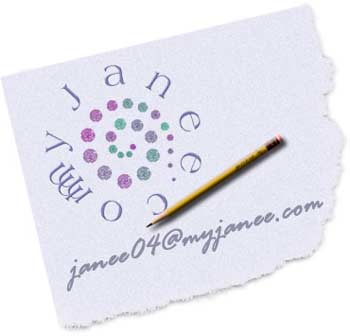 I've posted several reworked tutorials.. and some new ones just this past week. First i redid my monster "Get into Shape" tutorial, making it, instead, three more manageable tutorials. Then I added a whole new shape tut, which tells how to combine paths to make a new path.. and then to make this into a shape. I use as an example, the stunning new shape sensation, the moth body!
I posted my Bursting through Paper tutorial and also my Using Filters tut.

The Courthouse Hunt is going swimmingly. We are up to 45 of them out of the 92 total. Of course the most difficult ones remain, the ones that will be a whole day to get there. Do check them out though, if you have a chance. Also look at the map of counties.
I took some new nature photos this am, the one of the deer and the katydid pics.. check them out here on my Nature page of my Photo Gallery.
I'm still doing my monthly column for Digital Photography Techniques. It's a fine magazine and i'm proud to be a part of it. If you have any PS questions you want to see covered in there.. and you happen to be from UK, then bring 'em on! Use the email addy above.
Walking is going great. I've posted pics of walking routes for several people from the myJanee.Community's Walking Group. While you are there, click on some of those LiveLight links and read my stuff there. Every time i read it, i'm re-inspired!
Went to the orthopedist re my sacro-iliac joint ydy. I'm on Vioxx and start PT on Monday. I'm excited about the hope that it will be getting better soon.
---
Thursday, 21 August, 2003
Is it possible that after 2.5 years of having my same old email... i've changed it?
New one is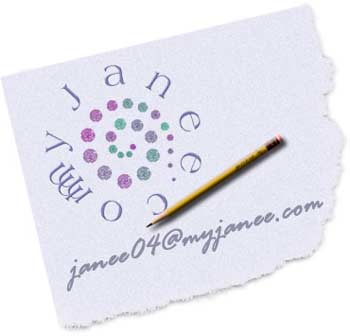 I had to do this because i was inundated with virus-attached emails. I got 500 yesterday.. and then this am when i came on i had 650 more. The end. I'm going to NOT post my email addy on my site. Maybe this will ease some of the spam out of my life, as well. Hope so, anyway. I'll keep ya posted.

---
Wednesday, 20 August, 2003
Is it possible that it's the 20th of August?

I've posted photos from some of our walkers' hikes! Check them out here.
I'm about to post a new tutorial.. if i can get a moment to proofread it .. this one has been in the works for a long time.
I have some more courthouse pics that i need to edit and post, too.
The Q&A for the British magazine Digital Photography Techniques is going very well. This is a quality magazine and i hope that my British readers will run out and get it! Then write to the editor of the mag and tell him what you think.
---
Tuesday, 5 August, 2003
We went to Cafe Pizzaria for dinner last night. First time there in ages, since we swore off smoking restaurants. Now that they are non-smoking, we can see that they have good food!

There were many people in there, families with young kids, etc..
I just got 4 more courthouses posted!
I also updated the clickable map. I posted (finally) pictures of our recent favorite walking trail, for these early morning walks, the Cook/Ivy Tech Trail!
Yesterday i was fruited out because i was unable to get my site to open in GoLive, my web editor. It is because my .site file was corrupted. (Why? Who knows?) The way i had to fix it was to make a new site file and then to import the other site data into it. The trick to this is that you surf to the index.html of the site in the LOWER box first. Then the upper one fills itself in. Easy peasy.... once you know how to do it!
---
Friday, 1 August, 2003
Wooo hooo! Today the no-smoking-in-restaurants ordinance goes into effect in Bloomington! Bars and restaurants that don't let in under 18 ppl still have till the beginning of 2005, but this will greatly increase our choices for dinnertime!
We've now gotten 23 courthouses! You can see them HERE. Be sure to click the map at the top. It will take you to a clickable map page of which i'm quite proud. I hope it isn't too much of a pita to keep up with, as i add more counties. Just turned in the Q&A for issue 4 of Digital Photography Techniques. I also got my first issue! (Thank you Deci!)

This is a really classy magazine, clearly rivaling anything that i've seen in this country. Maybe they will be shipping it over for sale here too, eventually. Emails have been pouring in, so if i'm late in answering yours, don't feel too bad. Though my inbox is now down to 38, many of these are ones that need answers i'll have to think about or work on.

Michael's sister Becky is coming today! She'll be here for 2 weeks, with time off in Louisville. There is the reunion next weekend for Michael's cousin Mort and his wife Marilou's 50th wedding anniversary! Should be a nice time.
Maddy

had what turned out to be a little black wart taken off her ear last Friday and she also got her teeth cleaned at the same time. She did fine!
Everything else goes fine. I'm gearing up for an August Art Challenge, so stay tuned for that!
---
Tuesday, 15 July 03
Today we got our new appliances! Wooo hooo! Michael can't wait to do some laundry... and i'm actually eager to get the fridge cooled down enough to put food into it. The doors have room enough to put gallon jugs in there.
I'm still working on getting caught up after the hectic June Challenge, but i am seeing light at the end of the tunnel.
The Q&A column is going well, still. I just got an email from a guy who has actually bought the magazine in UK! YAY! He's gonna scan me the cover so that i can post it here.
Michael and i have been "collecting" courthouses. We are up to 12 of them now. You can see the collection HERE. I'm working on a few new tutorials, but the main one is Love Your Pen, part 2. It is at THIS link.
Thursday, 3 July 03
We sold the motorhome... Challenge is over.. i redid my Seventies Trees tutorial... Work goes on on several projects, including the Q&A for the UK mag. Too busy! But when i'm not busy, i whine even more!
Tuesday, 11 June 03
Yikes! My life is getting wayyyy out ahead of me! I've been working full steam on a new column for a brand-new digital photography magazine to be published monthly in the UK, beginning in July. Not sure if it will be available elsewhere or not. I have done the first 2 months' columns and .. big job, but, looking at the proofs, it is going to be well worth my effort! I'll post the cover when i get it.

We have a Challenge going right now, and so far it seems to be the biggest ever. Topic is Flowers.
Apress bought what was left of Friends of ED, and they are planning to reprint my first book, PS 7: Professional Photographic Techniques. Don't know about the others yet, but hopefully they will pick those up too.
I'm still tossing around book ideas in my head. Nothing has come of it yet, but, when it does... look OUT! I have some pent-up book-writing energy in there to expend! I did a new tutorial on curled paper edges, called Turn the Page. Check it out. I need feedback on this one!
---
Tuesday, May 6, 03
Just added a great new thing to my Art Games page! Please... if you don't do anything else today.. go check this out! It is under Explore Science.

---
Saturday, 3 May 2003
Another beautiful day! Today i worked on email email, and a bit more email. If you have emailed me more than a few days ago, and have not gotten a response, you may want to make sure that your ISP is accepting email from my ISP or that your mailbox is not full. Now and then it happens. I have gotten a few emails returned of late. There is very little in life that is more upsetting to me, than to work hard on a nice response, only to have it returned!
Another Challenge for the History Books! You can see the April Challenge Awards, for the next 6 months, at THIS LINK. Some really neat entries, and i think that i got a record number of participating artists who wrote to me, telling me how much they learned and how fun it is!


I worked ydy on posting new photos in my Photo Gallery! I've added a bunch of flower photos and a few pages of scenes of Indiana. Several really nice pics.
I've posted a new Photoshop tutorial, this one on how to do folded paper, like the Site Map in my interface above.
---
Thursday, Mayday, 2003
Things are sliding right along here at myJanee.com! I just wrapped up the April Challenge ydy and you can now see the Award-Winners which are posted HERE.
You may also notice that there is something different about my main interface. I now have a link to "Gift Shop!" That is the link for the myJanee.commerce stores. As of now, i have two logo stores, one featuring my "dots" logo, and another store which features my "action" logo, in red and black. I have an art store, which has just a few items featuring my artwork. Then there is the Challenge Trophy Shop, whose items feature, what else? The Challenge Trophy!
Michael's sister Becky was here from Friday till yesterday, when she left for Louisville. In that time, we went to West Baden, to the White River Gardens, the Indianapolis Zoo, and twice to Handel's Ice Creamery in Fishers, Indiana! I am going to post my pics soon! While she was here, i went for a walk in the woods and found a few morels, too. Besides photographing some of those, i also captured some wildflowers on my card. I'll have these up soon, too.
Becky will be back on Sunday just overnight, before she goes to Peoria on Monday.
---
Monday, 21 April, 03
Nearly a month has slid by. I spent a bunch of time working on my offline seminar which will be available sometime in May, i hope! I've also worked on trimming filesizes for my tutorials, cutting some tuts into more than one page, and reducing file bloat for some screenshots. I have also written and posted some completely NEW tutorials, too.
Action to Mark the Center Learn how to make this very handy action which marks the center of any canvas with guidelines.
Tilings 2 Seamless tilings with a rock wall
Beehive Tilings Yes! You can make a seamless tiling in a hexagonal (honeycomb) pattern!
Love your Freeform Pen Come a step closer to mastering little bugger with this tutorial.
Michael is getting excited about his new position! He was "downsized" from his former practice which ...well it really just dissolved, so he went looking, and the first place he went, they were very eager to invite him to join them. I think that it will be a great match. They are going to love the increase in action that he will bring them, and he will be comfortable practicing with these people. Check out www.DrAronoff.com. The building will be the same one where he practiced for the past 10 yrs.
I've been pretty busy with updating his site, and with preparing business cards, moving letters, Dr. flyers, and the ad for the newspaper. Michael just really doesn't want any of his patients to wonder where he is! Spring has finally sprung and i'm really loving it! The redbuds are budding and the dogwoods are dogging. Yesterday, we had a hailstorm here, with hailstones that were up to golfball size! What fun it was watching them pound down on the deck. I collected a few of the larger ones and put them into the freezer. I'm gonna take a pic of them.

---
Thursday, 27 March 03
Got another notification that i'm using too much bandwidth. Urk! So i have undertaken to reduce the filesizes on my images in my tutorials, some of which are definitely too big. I've so far reduced sizes on Hearts, Frame, Branches, Capsule, Antique Gold,.. and i think that's it. Tedious to do, when i'd rather be writing NEW tuts, but people keep coming back for the old ones, so i guess i've got something going there.
I've also done some extensive rewriting on some of the tuts. Raindrops and Sepia-toning got my critical eye over the last few days.
I have added some links to PSRL, did an extensive update on the tutorial links, making a new index page for them and culling out all the bad links.
Getting great reviews on all my books of late. Feels good!

I hope now that Friends of ED gets a buyer.

We've decided to sell the LazyDaze motorhome. You can read all about it HERE. Yeah, i know.. only *I* would make a website for the purposes of selling an RV. And I even made rollovers for the interface!

---
Friday, 21 March, 2003 Happy Spring!
Added a new link to my Artlinks page today. Also announced the Awards in the Challenge for March. Some great stuff!
Thursday, 20 March, 2003
Today i opened my new store! myJanee.commerce! Actually it ended up being two stores, one for the Challenge Trophy merchandise.

Some people have expressed interest in myJanee.com shirts, and mugs.. and I wanna shirt too! I also like the tile coasters! <g>
The weather is finally seeming to have warmed up.. and i'm hoping that it is for the season! This evening when we walked, the sky looked very dark and threatening, but it didn't rain more than just a drop! Today is my 1 year and 8 months of walking every day, not missing a single one!
---
Tuesday, 18 March, 2003
Challenge entries are all in and the voting is going on now. I'm still bummed about the person who wrote to me and said that it was lame that i enter my own Challenge because it isn't fair.

I tried to explain that i don't even vote.. that if my stuff wins, it is because everyone else voted for it.
Why would i want to do all of this work if i couldn't even be in it? I do all the work in setting it up, send out all the emails, and then accept, tally, and total the votes when they come in. Is that wrong? Anyway.. i'm not gonna do one in April. This will give me a chance to do some other stuff and remind myself why i love doing the Challenge.
Friends of ED, the only book publisher i've written for, wrote and their parent co went bankrupt, taking them down too. All those great guys are now out of jobs.

I think that another co will come along and buy FoED, but... for now at least, i'm out any royalty money that would be coming my way. I just hope that the books keep selling, wherever they are. I guess no second printings, though.
Soooo... onward and upward! I have some other stuff that i'm working on and will pursue that. I just got Acrobat reinstalled and got the XP patch. Hope that it works. Then i'll figure out how to work it. My next big project is an "Offline Seminar" which i'll likely put on CD as well. More details as i know them -- well... maybe a few days after i know them.

---
Tuesday, 11 March, 2003
Still getting entries for the Challenge (till Monday.) I got 25 new ones on Monday!

Posted some new work to my gallery today, a couple of changes in Geometrics, and some in Spirals. I was inspired to do the spirals because of the Challenge, but i'd already submitted my allotment of entries! Dang!
---
Friday, 7 March, 2003
The Challenge for March is underway and the entries are coming in.
I've decided to use the Task feature of Outlook, so i've got my To Do list there. Bunches of things to do, though it seems like i don't have anything to do, because i don't have deadlines closing in around my throat!
I redid some stuff on the Rain tutorial last night and added a question to the Ask the Goddess column this morning. Added another polyhedron page to my Art Games, some really great stuff to look at, though not really a game.
---
Tuesday, 4 March, 2003
Announced the March Challenge. Added a bunch of things to my Drawings Gallery page. Also to my Cards Gallery page.
---
Sunday, 2 March, 2003
Uploaded the trip pix! Be sure to click on all the pages at the top. Added new emoticons to the Message Board, updated the Frame tutorial.
Exciting new tutorial developments in the works. Stay tuned.
Elements 2: Tips & Tricks is OUT! I don't have my copies yet, but... it looks good!
---
Wed, 26 Feb 03
Added toadstool pic, reformatted woodlands, Indiana pages, flora, reformatted and did rewording for Rain tutorial, working on myJanee.commerce...
Yes, i know that this will mean the end of "not making any money on my site," I hope, but since people will be getting something of value, that they can buy or not, as they choose, i consider it very different from the cheesy banner advertising which other sites use to pay the bills. I hope that this is a fun and beneficial thing all around. I just have to finish setting it up now.

---
Tuesday, 25 Feb 03
My how the time flies when i'm basking in the sunny warmth of Southern California! We had a wonderful time with Becky for the first part of the week and then for the last part, we really enjoyed the time at Photoshop World! I'm working on my pix, amid all my other catch-up kinds of projects, and i'll have the link up here soon, i'm hoping.

Today i did some fixits to my site, adding some student work to my Painted tutorial and also to my Capsule. Do have a look at these. I'm proud of the work that my students send me! Whilst i was mucking about in them, i also added some things, did some formatting, and a bit of rewriting, where i found it appropriate.
I did some updating in my Sitemap too, but probably nothing that you would notice. In fact, if you DO notice the changes that I made in the Site Map, any part of it, and you are the first to tell me about it by Friday 28 Feb, i'll send you free a copy of my latest $10 magazine.

---
Thursday, 5 February 2003
103 entries in the Challenge.. and still several days to go!

And what a fun Challenge it is, too! These people never cease to amaze me with their great ideas/execution!
In my personal life, I've been doing something since the first of the year, and i declare it a success, so i'm gonna let you in on it:
My New Year's Resolution, 2003
This may seem like a silly little nothing thing, but ... after way too long of being in a certain rut, i've finally found a way out of it.
My problem is that i really hate to clean house. And with all of the GOOD stuff that i have had to do over the past many months, i've not done any house cleaning. I mean.. we are talking no real cleaning. Oh sure, when we were gonna have company, we'd race around with a vacuum and a duster, and we have never let the kitchen get so dirty that we had bugs or anything, but the house was never really clean. I was kinda secretly embarrassed ... constantly, about it.

I tried coming up with the resolve to clean, say... even every couple of weeks, but i'd do something one day and then the month would pass and i'd realize that i wasn't keeping the house clean.

So on the first of January, I awoke with a plan. You know how I walk 2 miles, 30 minutes, every single day, without missing a day? Well, i planned to clean my house.. to work on something in it, for 20 minutes each day. This is above and beyond the normal picking up and rinsing of dishes, picking up clothes.. that kinda thing.
Now.. please don't think that this is so simple that anyone shoulda been able to think of this. Even though it might well be, *I* didn't think of it till 2003, at age 46!

Ok .. here's what i did: I decided on 12 different areas or activities, and i made an index card for each. I have stuff like "our bedroom,", "Living room," "dusting," "vacuuming," "closets," "drawers," "guest room," etc.. Each morning, before i am allowed to get on my computer at all, I do my 20 minutes.
I shuffle the cards, then pick a card. I decide what i'm gonna do, set the timer, and then go to it. The rule is that i'm not allowed to stop before the 20 minutes is up, and when it is, then I gather my equipment, put it away, and i'm done. I'm not allowed to do MORE than 20 minutes. I can do whatever i want to do, as far as cleaning/organizing in that area.
If, when the timer goes off, i think that i have another 20 mins worth of work to do there, then i put the card back into the deck. If not, then it goes over into another pile, leaving 11 cards from which to draw the next day. When I get 6 cards in the "done" stack, then i shuffle them back into the deck.
This system is perfect for me for several reasons. First, there is a level of excitement. I never know what i'm gonna choose. There is a level of freedom, because i have the latitude to do whatever i want/need to do in that area. If i draw "guest room," I may choose to organize a drawer or closet, vacuum and dust, or wash walls and windows. In 20 minutes, my back doesn't hurt. In 20 minutes i'm not bored. And .. with a mere 20 minutes a day -- and that isn't enough to hurt me or bore me -- my house is looking lots better!

Twenty minutes a day isn't really much.. easy peasy.. but in a week, that's 2 hours, 20 minutes! That's more time than i spent on my house in the whole MONTH of December! I think that, as with the walking, the secret is in the everydayness. No excuses. Just do it. Simple? Sure! but does it make me feel better? Yes!
---
Monday, 3 February 2003
Happy Anniversary, myJanee.com! Two years as of yesterday, since i registered myJanee.com. (I'd had the site going for awhile before that, but.. 2 yrs for myJanee.com.) YAY!

I celebrated by adding some new links, new Ask the Goddess questions, and a new mini-tutorial, this one on making a duotone composite. I also made a new archive page for Ask the Goddess for 2003 and one for this Journal's archive for 2003.
The Challenge for Feb is going swimmingly. We are doing "Alpha-best"... celebrations of the letters of the alphabet! Getting some really cool and creative entries!
The weekend was fun. We went up to Carrabbas Italian Grill in Carmel on Saturday, and .. what a yummy feast! Afterwards, we drove over to Handels for ice cream. :) Ydy we went to McCormick's Creek for a walk in the slushy snow! Maddy went along and rolled in the muck... she was in hog heaven! I laughed and laughed.
---
Tuesday, 28 January 2003
I'm thinking about what topic to use for the February Challenge. I guess Love is overused, so i'm not gonna do that one. I have some ideas... would love to have one that pops out at me, though!
Finally got my rewrite of my last chapter done for Elements 2, Tips 'n' Tricks. It was a fun project, and it's gonna be a great book, but it is always a relief to get the rewrites done!
Coldddd here! Well.. i guess it could be said that it is warm today, since it is over 20°. Brrfff.. after a couple of weeks of under 20, i guess this should feel good. I just really need to be in a warm climate this time of year.
---
Thursday, 23 January 2003
What an amazing time we had on our cruise! I have our pix up and am in the process of posting my journal. This is what i get for writing my Journal by hand! LOL!
I've added some other stuff to my site as well, including some nice links in PSRL. In tutorials, look for Shanzcan's site. Also, in Art Links, i added one for Ideabook.com, a site with lots to offer.
On that PSRL page, you can also see my placard from Phenomenal Women of the Web, a group to which i was nominated.
I'm busier than a one-armed paper hanger with hives these days, it seems. Finishing up a book chapter, finishing up a magazine article, beginning a couple of websites... and getting set for the trip next month to Photoshop World! High-class problem to be so busy, i know!

---
Saturday, 4 January 2003
We are leaving today to go on our cruise! We are going to Indy today and then will spend the night at the airport Holiday Inn, so that we can get up bright and early (or at least early) for our 6am flight to Miami!
Do check out the Awards page for the December Challenge, and the other entries as well. We got some very cool entries this time, a record 156 of them, in 5 holiday categories.
I FINALLY got the photos and log published for our Thanksgiving Denver trip, which also included Hannah Meg's naming ceremony! I also have the pix posted from our Christmas day at Annette's.
---
Thursday, 2 January 2003
The December Challenge is all over, and the Awards page is posted! See the happy winners, including the two who won a copy of my PS Trade Secrets book, for having the most votes overall!
We had a wonderful time at Christmas! We went to Annette's house (my sister) and did the traditional gift-opening around Annette's lovely tree.

I got a beautiful diamond and platinum ring from Michael, as a combination Xmas/anniversary gift. I also got 2 sweaters, a puzzle, yummy food gifts, and probably some other stuff that i can't remember. <g> Then we sat down to a wonderful dinner of ham, potatoes, vegetables, and then birthday cake for nephew Aaron's wife Angie. Yum! I will have the pics up for this day... either today or tomorrow!
Old news, maybe, but i FINALLY got the photos and log published for our Thanksgiving Denver trip! This trip was full of festivity, with Thanksgiving, Hanukkah, Hannah Meg's naming ceremony, and Joel's birthday!
I like to report on things that HAVE happened, and not on what's GoNNA happen, but .. i break with tradition. Michael and I are leaving Saturday for a CRUISE! We are taking Carnival's smoke-free (!) Paradise ship for a week-long cruise of the eastern Carribean! Since neither of us has been on a cruise, we are quite excited! I'm taking the camera.
---
Tuesday, 24 December 2002
The December Challenge entries are all in, and the entrants are putting together their votes. If you want to vote, and are not an entrant, write to me. I'm putting together the Blue Ribbon Panel for this one now!
The Elements book is SWEET! The cover, in magenta and yellow, is gorgeous, and it gets better as you get inside the covers.
I'm excited about Christmas, actually! We are going to visit my sister Annette and her family for the day. I have a bit more wrapping to do.

My article was published in SBS DigitalDesign magazine for January 2003. It is an article on masking, for which i did a painting/pen&ink of Chicago's Lake Shore Drive. I love how the article turned out. Ok.. i know that this stuff is old hat to those of you who have been published a lot, but i'm still getting used to it!
---
Wed 18 December 2002
The December Challenge is progressing swimmingly! We have, so far, 71 entries, and deadline isn't till Mon, the 23rd!
The book came! Elements 2: Most Wanted is in my hot little hands! I am so loving this book. I really do believe that it will be helpful, inspirational, and FUN for Elements users. For people who are into art, digital photos, or just like to fiddle around on their computer, this would be a great Christmas gift, imnsho.
Since they don't tell you this in the book, my chapters are 3, 6, 7, 8, 10. If you are familiar with my work, though, you should recognize my style, if not ME. Three of my chapters have pics of me in them. <g> Hey.. i din't need a model release! And my pic is also at the very beginning of the book with my bio.

My main writing is done for book #4, also an Elements book (So i have 2 so far in Photoshop and 2 in Elements.) I still have rewrites to do on that one, and it is slated to be published in Jan or Feb. I still have to write my bio and find/make/take a picture of me for it.
Weather last night was so icky and it was so dark that we decided to walk at the mall. It was quite nice, though it was a bit bustling with happy holiday shoppers.
---